OKTOBERFEST
BIER & WINE MENU
Discover the Great Selection and Taste of our Beverages
Springboro Oktoberfest is known for it's fantastic food, bier and wine selections. With every year, we continue to improve our selection and this year is no different.
Check below for a listing of the amazing biers and wines we will be offering this year, along with a link to learn more about each (if available).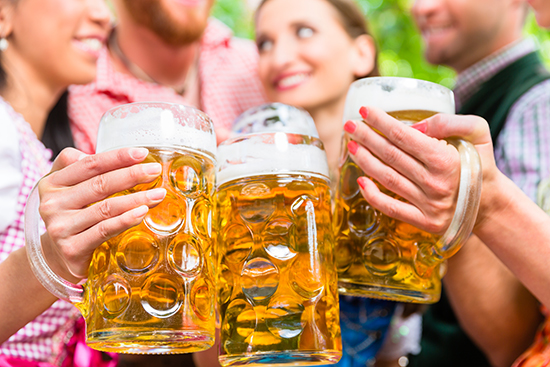 Variety of Schnäpps/Shots
2021 Karl Kasper Riesling Kabinett, Mosel Germany
Wine Tasting Notes: This is an off-dry Riesling with a classic Mosel profile: intense mineral (petrol) floral aromas, hints of peach, apricot and citrus notes.
2021 Von Der Leyen Riesling, Nahe Germany
Wine Tasting Notes: Slightly sweet with sparkling aromas of fresh green apple, gooseberry, pear and grapefruit. Lively, fresh and minerally. Hints of peach and tangerine on the finish.
2020 Graf Spatelese, Mosel Germany
Wine Tasting Notes: In the mouth apple, pear, apricot, lime, lemon, honey dew melon and even a touch of minerality from the stony slate soils. This is a major quaffer that is very easy to drink. The wine ends with lots of lingering sweet fruit that lasts and lasts.
2021 Herman Moser "Per Due" Gruner Veltliner, Austria
Wine Tasting Notes: A beautiful clear wine with fruity, floral and spicy aromas with a hint of fresh citrus. It is crisp and juicy with a little spice, nectarine, waxy pear, rhubarb and white pepper.
2021 Prost Pinot Noir, Phalz Germany
Wine Tasting Notes: Red berries, cranberries, and a hint of rose can all be noted in this wine's wonderfully pretty nose. The palate has a delicate lightness but a firm grip, and the finish has subtle savoury notes.
2019 High Def Bubbly Riesling, Mosel Germany
Wine Tasting Notes: Golden straw color. Rich, pure and layered aromas of sweet peaches, and golden raisins with a zesty, fruity medium-full body and a long, racy, smoky mineral and grilled apple accented finish.
2020 High Def Sweet Red, Mosel Germany
Wine Tasting Notes: Pert blackberry and blueberry flavors are accented by smoke and sugary sweetness in this cherry Dornfelder.
2020 Carl Ehrhard Rudesheim Berg Roseneck Spateburgunder, Rheingau Germany
Wine Tasting Notes: Light red fruit and rose petal aromas. Dry, elegant and light bodied with bright fruit flavors, spice and minerals backed by smooth tannins and moderate acidity.
2020 Weingut Wagner Stempel Siefersheim Riesling Porphyr, Rheinhessen
Wine Tasting Notes: Deep and very subtle nose with great wild-flower and herb aromas pulls you into this extraordinarily concentrated and refined dry riesling for the village-wine category. In spite of the juiciness on the mid-palate, it's only just beginning to open up. Breathtaking finish with enormous mineral freshness! From organically grown grapes.