Oktoberfest Festival, September 7 & 8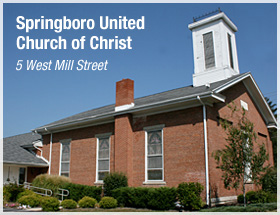 The Springboro United Church of Christ (UCC) is recognized as the oldest west of the Allegheny Mountains (1805). It's members are committed to helping the community of Springboro and beyond with a purpose of caring and fellowship. And what better way to raise funds for those less fortunate, than to enjoy Oktoberfest food, fun and entertainment!
Embracing its German heritage as the former German Reformed Church, the Springboro UCC is proud to bring Oktoberfest to Springboro! The two-day festival is a celebration of authentic German food, beer, wine, and entertainment for the whole family.
Fellowship, Fun and Purpose
In keeping with our traditions of helping those in need around us, the Oktoberfest Springboro celebration uses event proceeds to support deserving charities including:
The Franklin Food Pantry offers supplemental food assistance and household necessities once a month to eligible households. Bread and fresh produce is available daily for clients.
Hope House Mission – Hope House is not just about bringing relief to people in chaos. We're about transformational life-change. Our goal is to break the cycle of poverty and despair – one life at a time.
Cincinnati Shriners Hospitals for Children — Cincinnati is one of only four freestanding hospitals in the country dedicated to the treatment of pediatric burns and specializing in plastic and reconstructive surgery. Our physicians' experience and expertise in burn treatment, cleft lip and palate, complex wound and skin conditions, and plastic and reconstructive surgery makes Shriners Hospitals for Children — Cincinnati a first choice for care.
The Springboro Community Assistance Center (SCAC) – 

The SCAC was created to provide much needed food items and financial support to families in need in the Springboro area

.
The Military Order of the Purple Heart – Chartered by Congress in 1958, The Military Order of the Purple Heart is composed of military men and women who received the Purple Heart Medal for wounds suffered in combat. Although our membership is restricted to the combat wounded, we support all veterans and their families with a myriad of nation-wide programs by Chapters and National Service Officers.

Help Others While Helping Yourself!

Please support the Springboro UCC in helping these fine organizations, while you take part in this fun, family event. Enjoy German food, beer, wine and activities with us on September 7 and 8, and also help the community around you in the process!
Contact us for more information…
Volunteer your time to help ensure a successful festival…